Android, iOS, or Windows: Which Is the Best Platform for Your Business? | Konverge Digital Solutions
What is the number one challenge businesses face today? The answer: keeping up with the increasing speed of change in the way business is done. Businesses rely on available technologies to give them a competitive edge. Custom mobile applications enable businesses to connect with their market and generate revenue. If you're planning a custom mobile application for your business, it can be a challenge to decide which platform of the big three: Android, iOS or Windows, is the right one for your unique needs.
Below are some of the determining factors when deciding which mobile application platform is better for your business: Android, iOS or Windows.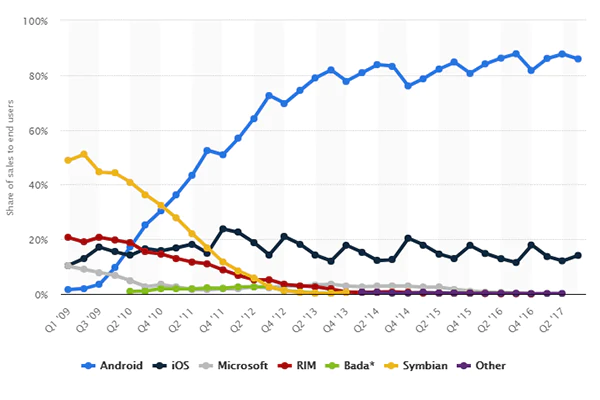 Market Share
Source Global mobile OS market share in sales to end users from 1st quarter 2009 to 1st quarter 2018
Currently, Android applications own the largest share of the market. Statistics suggest that Android has nearly a global reach of 82.8%. Following Android, iOS shares the second largest share in the market while Windows places third. However, don't be too quick to discount Windows as irrelevant as it is a growing market. If your target customers are Windows users, it can be a great opportunity to explore and master your app on this OS.
A bigger audience can mean a lot to your business. It invites more potential customers, more traffic and thus a room for more potential conversions. If your target customers involve wider demographics, Android applications can help you reach your niches effectively.
Usability
Simplicity is a key feature of the iOS user experience. Most iOS users maintain loyal to the company because of their easy-to-use design approach and reliable devices. iOS user experiences are uniform for all of their devices whereas Android user experiences vary between devices. Similar to iOS, Windows prioritizes the uniformity of user experiences across all of its devices. While Windows may have a relatively smaller market share, the company strongly believes in mobility experience. This can be a great decisive factor for your business application.
Device Availability
Market research is one of the primary elements of focus when launching any product. The range of devices that your potential customers possess is a key factor in deciding whether Android, iOS or Windows is better for your business. Because Android runs on a varied amount of devices with different settings, screen sizes, and features, it makes it difficult to design an application that serves all Android users at a single time. On the other hand, if your target users are using iOS or Windows, it is easier to create an application to suit all users. iOS applications have one of the most stable and loyal user bases as they stick to products that suit their users' needs.
Reliability
Customers give priority to reliable solutions over anything else. When you create an application for your business, understand that it will be susceptible to security issues and this will be entirely platform specific. With a large outreach among many devices, Android has been more susceptible to security issues with their apps. Google Play has taken steps to improve the security of their apps, however iOS remains the golden standard. iOS has a limited range of devices and has a firm set of guidelines that restrict bugs or any crawlers in an application. In fact, one of the biggest marketing strategies of iOS lies in the security and reliability of its operating system. The Windows Store's terms and conditions are quite robust. Windows Store makes use of Digital Signatures. If an application's code is attacked by malware, the signature of that app will be changed. This alerts Windows and the operating system will block the app from running. It'll even download a new, clean version from the App Store.
Beta Testing and Publishing
Beta testers are people who review applications before they are released to all users. For application developers, beta testing helps them know about real-time usage bugs and issues with their applications. Android applications are well tested by beta users because they have the widest user base.
Publishing an app in the Google Play store, where Androids are exclusively available, is very easy. You can hit the publish button on Android and pay as less as $25 per year. The Apple store requires more money to list your app and incorporates a lengthier process than Android. Windows lies somewhere in between the two.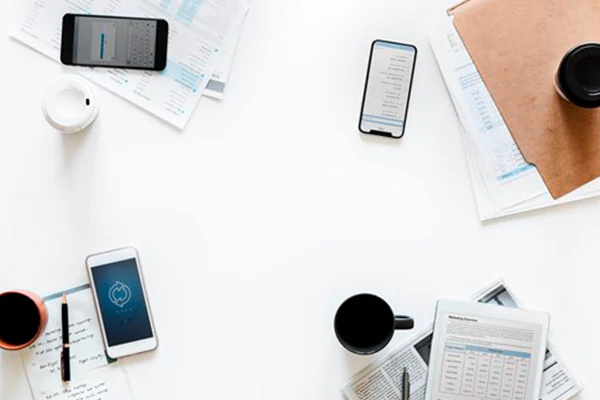 Reviews
Since publishing is much easier on Android, it is also easier to get reviews. Google has comparatively less strict guidelines and policies than Apple and Windows, which is why it is successively reaching out to a large number of people, along with other factors. It takes less time to broadcast an app on the play store. iOS applications have longer reviewing process because they focus on design and quality.
B2B Outreach
If you're developing a B2B application, consider the platform that your B2B businesses are using. Since Windows stands firm as one of the most popular B2B operating systems, it can be a great platform for businesses to develop apps. Microsoft is the prime OS being used for everyday work in businesses as compared to Android and iOS. Launching your business application on Windows platform can be a kick start to your return on investment and popularity.
Revenue
One of the momentous factors of consideration for any business endeavor is the potential ROI. Furthermore, no business wants to miss a chance to earn revenue through their apps. iOS devices are usually more expensive compared to Android and Windows devices. iOS users are more likely to purchase an app when they sense quality. On the other hand, Android application developers earn more from advertisements. Successful Android applications are appealing to advertisers since they reach a large audience. However, revenues primarily depend on your target customers. If your customers prioritize luxury and design, you should be investing your time and energy on iOS devices. In other cases, if Windows has a growing market in your target area, invest in Windows.
Mobile application development Konverge
Requirements towards Development
iOS significantly requires fewer lines of code for development of applications. This is the main reason behind the unbreakable build and fewer bugs of the successful apps. Developing apps on Android and Windows platform requires far more lines of code. However, regarding developing technologies, Android and Windows OS are simpler as compared to iOS. Concerning development tools on different platforms, Apple and Android run parallel and give each other a tough competition with new updates and features. Android Studio and Xcode both come free and commit to development. Apart from Google official Android studio, there are plenty of other developer tools for Android.
Conclusion
While the right app platform mostly depends on your target audience and business goals, there are compelling pros and cons between all platforms to keep in mind. If you're planning to extend your outreach to a wider demographic, with minimum resources, plan for revenue from advertisements, head to Android. If your motive is selling apps and your target audience cares about elements such as design and reliability, reach out to iOS. If you're planning to introduce innovation and stand yourself apart from businesses or people using Microsoft platforms, launch your app on Windows. There is no such thing as a perfect choice. This guide will help you open up your horizons to the preferable choice for your business requirements. At Konverge we have helped number of leading businesses in Canada and globally. We deliver best-in-class digital solutions inducing mobile apps for B2B and B2C marketing environments. If you are looking for Mobile App or custom software development solution for your business, schedule a free consultation to know how we can deliver the best solution for your business.