Original Publish Date: January 24, 2018
Every software product owner/applications developer wants to create and launch a mobile app that will be successful. If that is the case, here are some of the must have features and characteristics of a successful mobile app.
Simplicity for the User
Have a convenient user interface and simple navigation. This is the main quality of any high ranking mobile application. If your app is a simple one, users will have no reason to look for another similar app. The simpler the functionality that is delivered, the better your app is. This will help your app get a loyal following. Thus, make sure that you pick a team that knows how to design an app well.
Developed for both iOS and Android
This is kind of not a secret, but just in case, we're adding it here. No good app is designed for just one platform. You want to make sure that your app is developed for cross-platform usability. This will save startup budgets, allow early market entry, successful testing, and will effectively achieve high performance.
High Performance
From the very beginning of the launch, your mobile application should not keep users waiting. The average wait time of a user is three seconds before he or she moves on. The app must be continuously optimized and the high performance should be constantly verified by quality assurance.
Security
This is vital in app development, especially in industries such as healthcare and mobile device management where data confidentiality is imperative. This should be one of the primary requirements discussed with your team of developers and ties in with AI.
Chatbots
If you can get your app to be able to talk to your customer, do it! Chatbots have really been skyrocketing in publicity and good client management and offline interaction are key. That said, better no chatbot than a badly created one.
Integrated Machine Learning
If you want your app to work for you, a well-integrated learning system will learn, predict and help your clients, making their lives easier and faster, and depending on what your app does, a lot more fun.
Offline Work
A lot of apps rely on the availability of an Internet connection, so to gain an advantage over the competition, provide access to features and content when a client is offline. This is especially useful for complex corporate systems.
Routine Updates
For your app to stay consistently popular, you must do an ongoing software product development cycle consisting of regular updates and evolution.
Have a team ready to regularly maintain the server and ensure that your content is up-to-date and relevant to its users. Make sure the app is constantly being fixed, tested, and includes some new useful features every once in a while to hold the interest of your users.
Add a Feedback and a Contact Us Section
You want to be open and available to every user, and what better way to do that than to add a feedback and 'contact us' section? Creating a means of mutual communication and direct contact for suggestions, ratings, and reviews builds trust and brand stickiness.
Make it all as quick and simple as possible in the fewest amount of taps on the screen and a minimum text input (i.e. limit with characters).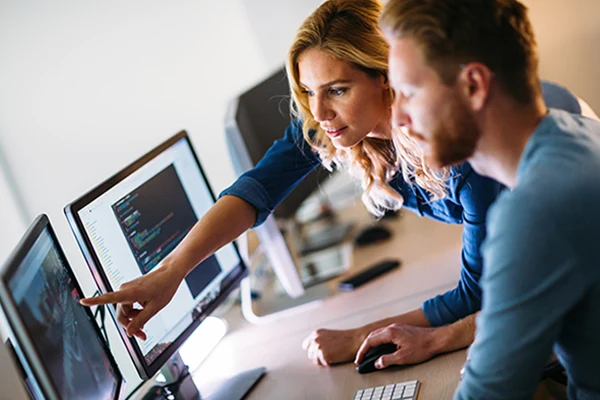 Search
Have a search system with specific filters. This is essential, especially with apps that deliver complex content. Ensure that every page and every service is easily accessible to the user.
Analytics
This feature is for you. It allows you to track users and get in-depth information on their behavior. This is how your app's success is measured and how you can make it better for future development purposes. Enterprise Mobile Management (EMM) and Application Performance Management (APM) are your best tools.
Conclusion
There is no right or wrong way to build an app, they vary in needs, reasons, and what their everyday tasks are. If you're a bit overwhelmed, it's always best to talk to and work with a team of professionals. Konverge is your team of dedicated developers. In touch with your every need and any mobile app developing necessity, we're more than just a custom software developer.
People first. Tech second.
Request a consultation with us today.