Is offshore development a smart move for your company? The hesitation most clients feel when they are posed this question speaks for itself. If you've never tried working with outsourcing software projects to an entity in a different country, odds are you've met someone who has. Most of the time, their experience wasn't a good one.
That's not to say good companies don't exist, it's just that it is very hard to tell the difference between good and bad ones, and once you make your choice, the money you've put into the project is almost not worth extracting yourself and starting fresh. Software projects are expensive and time consuming. No one can afford to take their chances on minimal information alone, which is why we provide more information in another blog post: Should you hire an Offshore Company for Your Custom Software Project?
In this article we're going to talk about the benefits and challenges of offshore development and how to maneuver your company for success.
Benefits of Offshore Custom Software Development
There are many reasons for outsourcing your project to an offshore development team. The main reason is financial. Cutting costs anywhere you can is possibly the difference between a successful project, and a money sink. Offshore teams are usually located in countries where salaries are lower or the conversion rate is positively skewed in your favour. That means you're getting the expertise of a home based team of specialists for a significantly lower price. For smaller businesses who don't want to sacrifice a large chunk of their budget but want a quality product, this can be an ideal option to pursue. You can concentrate the bulk of your resources at home and on core projects without falling behind on other, less burning projects.
Talent is another great incentive for companies considering offshore development. There is an abundance of talent out there that you can take advantage of. By looking outside your immediate area, or even borders, you're opening your doors to international talent with a fresh outlook and the potential to positively change the way your business is done. Additionally, changing locations is not an option, as it can be disruptive and expensive. Combined with a lack of local talent, some companies simply cannot manage without making the relationship with their development team long distance.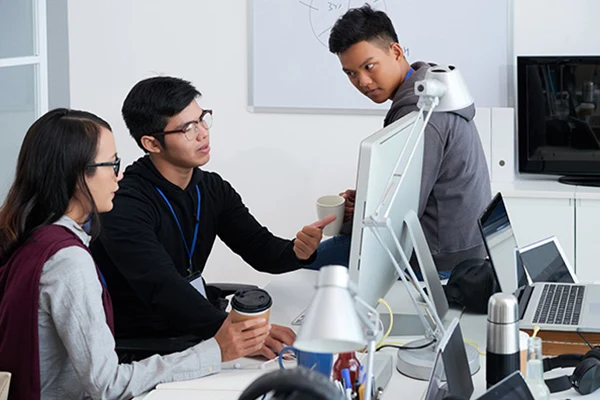 Challenges of Working with Offshore Development Teams
As with any long distance relationship, there are issues you need to be aware of in order to avoid. The most important one is to ensure that the team you hire for your project can actually do the job they say they can. It's not an ideal situation, but companies have been known to inflate their success rates, project speed and talent pools to appear legitimate. Finding a legitimate company to work with, especially if is the first time you are attempting to offshore a project can be difficult and time-consuming, and when choice fatigue sets in, you may still be unsuccessful. It's important to rely on research to hire a company who has experience with offshore companies and can vouch for one you're choosing or help you choose one instead.
Time Zone differences present if not a challenge, then at least an opportunity to plan ahead. Be prepared that your project won't be completed as quickly as you'd like if you don't factor in time zones. The lag time caused by these time zone differences means that often, when your team is off for the day, your offshore developers are just ramping up at work. That means when there's an error to address, you're looking at additional hours per issue because of turnaround time and response. In the worst cases, you may even have opposite working times, where the development team is only starting as your employees are heading home.
Communication is another big challenge. Depending on the type of project, there can be language sensitive problems arising due to translation errors between your team and the developers. Often, the people working abroad have a basic understanding of English. Make sure to remember this when planning timelines and expectations, as there may be delay if the teams you hire have difficulty understanding your deliverables. Communications with offshore teams have to be done clearly and carefully. After all, there is a big difference between being able to read an item and understanding the task.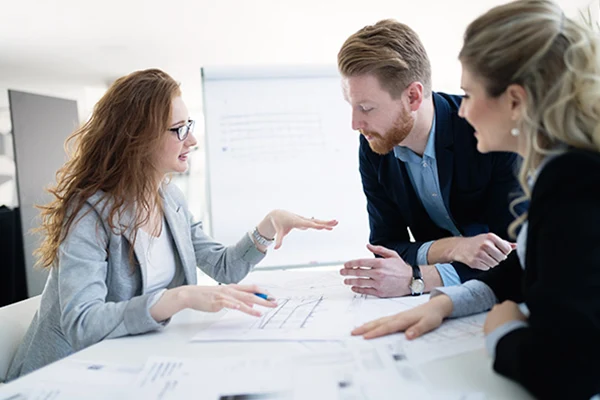 How Working with Offshore Teams can be a Success
The easiest solution to get the most out of offshore development and avoid all the risks is to work with a local company that has experience handling, working with and choosing offshore development teams based on their expertise and knowledge. Word of mouth can be a powerful tool, but an expensive project left delayed or dropped due to accidental oversight can be the difference between a successful or a devastating quarter.
At Konverge, we understand offshore development and processes. We have experience dealing with teams outside Canada and the US, and we will work with you to fulfill a software project that is lower in cost and successful.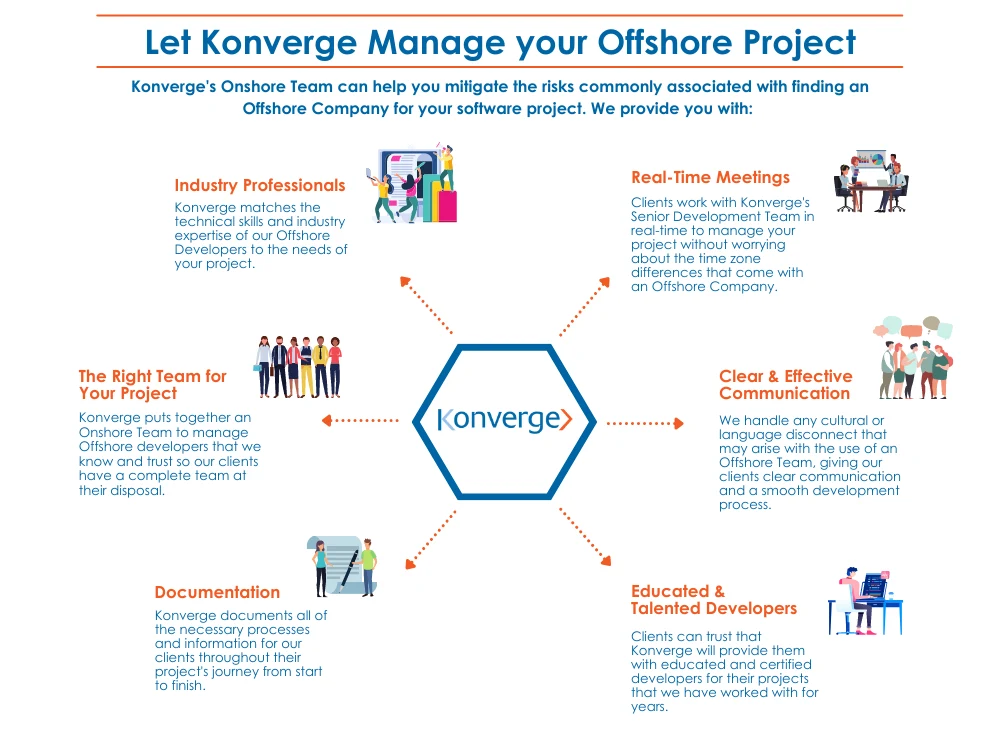 Choose Konverge for your Offshore Software Development Needs
With Konverge, you get the benefits of working with a local team, while letting us tackle the challenges of offshore development. Years of experience in software development services, along with our unparalleled customer-centric focus are certain to make your projects a success. Request a consultation today, and let us help you achieve success with your custom software development projects.
Konverge is your partner for software development services. As leaders in our field, our team of senior developers is ready to work with you to make sure your project is looked after and completed. As an agile custom software organization, our priority is top project completion and client satisfaction. We have experience working with companies of all sizes across Canada.
Our motto is people first, tech second. We are a certified Microsoft Gold Partner with a team of developers, project managers, business and quality assurance analysts that are qualified and excited to work on your project with you.