As we find ourselves in the midst of 2023, the software development landscape continues to evolve, offering us exciting innovations and opportunities. Let's delve into the top software development trends shaping the current year.
Artificial Intelligence (AI) Takes Center Stage
In 2023, Artificial Intelligence has firmly established itself as the driving force behind many software innovations. The world of AI, particularly machine learning and natural language processing, is expanding at an astonishing rate. From healthcare to finance, AI is being applied to provide data-driven insights, automate processes, and enhance user experiences.
In 2023, the AI market is expected to reach $118.6 billion, according to market research firm Tractica. AI is being widely adopted across various industries, including healthcare, finance, and education, with applications in augmented analytics, automated testing, and more.
Low-Code and No-Code Revolution
One of the most significant shifts in software development is the proliferation of low-code and no-code platforms. These solutions empower individuals with various levels of technical expertise to actively participate in the development process. In 2023, we're witnessing a democratization of software creation, making it more accessible and collaborative than ever before.
Gartner predicts that by 2024, low-code application development will be responsible for more than 65% of application development activity.
Human Augmentation – A Fusion of Tech and Humanity
Human augmentation is a trend gaining ground in 2023 as technology becomes an integral part of our lives. Wearables, powered exoskeletons, and even implanted microchips are enhancing human capabilities across industries. From healthcare to manufacturing, human augmentation is revolutionizing how we work and interact with technology.
According to Statista, the global wearables market is projected to reach 935.4 million units shipped in 2023.
The global market for medical implants and devices is substantial. Transparency Market Research projected that the global medical implants market would reach $134.3 billion by 2027.
Augmented Reality (AR) and Its Real-World Impact
Augmented Reality is no longer confined to science fiction; it's a tangible part of our lives in 2023. AR is significantly impacting industries like retail, navigation, and advertising. Marketers are harnessing AR's potential to engage and connect with consumers innovatively.
A report by Research and Markets estimates that the global AR in the education market is expected to grow at a CAGR of 82.3% from 2020 to 2025.
A study published in the Journal of Medical Internet Research found that AR-assisted surgery planning reduced surgical time by 15% and improved accuracy.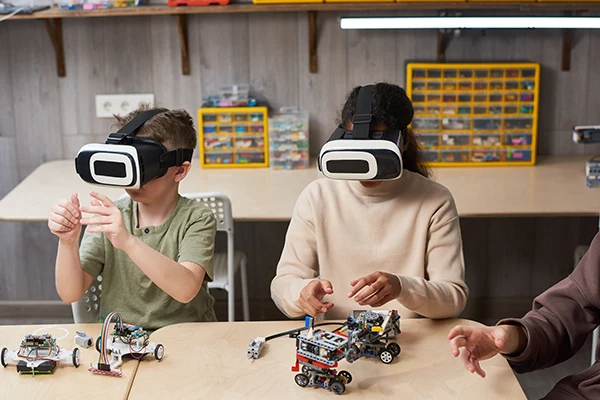 Virtual Reality (VR) – Beyond Gaming
In 2023, Virtual Reality is extending its reach beyond gaming. It's becoming a crucial tool in education, corporate training, and customer service. The immersive experiences offered by VR are transforming the way we learn, work, and interact with products and services.
A Gartner report predicts that by 2024, 40% of enterprises would be using VR for customer service and product support, improving customer satisfaction.
A PwC survey found that 23% of enterprises already use VR for training, and 82% believe VR will become a crucial part of training in the future.
Read Blog: Exploring Image Recognition: The Pros and Cons Unveiled
Cloud-Based Solutions – The Backbone of Modern Software
Cloud technology continues to be the backbone of modern software development. It offers scalability, cost-efficiency, and accessibility. We are witnessing the emergence of distributed cloud solutions, promising even more dynamic and flexible software deployment.
In a McKinsey survey, 80% of respondents reported that their organizations adopted cloud-based collaboration tools during the pandemic, highlighting the importance of cloud solutions in ensuring business continuity.
A survey by O'Reilly found that 66% of organizations believe that cloud computing has a significant impact on their ability to innovate.
Internet of Things (IoT) – A Connected World
The Internet of Things is seamlessly integrated into our daily lives. IoT's applications are expanding from smart homes to healthcare. AI and Big Data enhance IoT's capabilities, making it a pivotal part of our tech-driven world.
A study by Ericsson predicts that by 2030, the number of IoT devices connected to cellular networks will reach 24.6 billion, with a significant portion benefiting from 5G.
A report by BusinessWire predicted that by 2025, the global market for IoT healthcare solutions would reach $534.3 billion.
Blockchain Beyond Cryptocurrency
Blockchain, initially famous for cryptocurrency, is diversifying its applications in 2023. It's no longer confined to financial sectors; it's becoming a game-changer in supply chain tracking, secure data recording, and developing decentralized apps (dApps).
According to DappRadar, daily active dApp users reached 2.36 million in the first quarter of 2023.
A report by Statista estimated that the global blockchain in the healthcare market would reach $1.6 billion by 2025, growing at a CAGR of 47.1%.
Progressive Web Apps (PWAs) – Bridging Web and Mobile
Progressive Web Apps are gaining prominence in 2023, blurring the lines between traditional websites and mobile apps. PWAs offer seamless user experiences and are showing significant improvements in engagement and conversion rates. Developing and maintaining PWAs is often more cost-effective than traditional mobile app development, as a single PWA can work across different platforms.
Companies adopting PWAs have reported notable improvements in conversion rates. For example, Aliexpress experienced a 104% increase in conversion rates after implementing a PWA.
Automated Code Reviews for Code Quality
AI-based automated code reviews are streamlining software development in 2023. They ensure code quality and reduce manual review efforts, resulting in faster software deployment. Popular automated code review tools like DeepSource, Codacy, and CodeClimate have gained widespread adoption in the development community.
A survey by GitLab found that 57% of security professionals have either adopted or plan to adopt security practices earlier in the software development life cycle.
Read Blog: What Comes After Digital Transformation?
Conclusion:
In the current year of 2023, the software development landscape is at the forefront of innovation, continuously pushing the boundaries of what's possible. From the expansive realm of Artificial Intelligence to the widespread adoption of low-code and no-code platforms, the tech industry is in a state of constant evolution, reshaping various sectors and redefining our relationship with technology.
These trends are not isolated but intricately connected, creating a dynamic and collaborative environment that fosters innovation. As we navigate the software development landscape of 2023, we find ourselves on the cusp of a future teeming with exciting possibilities. The journey has only just begun, and the software development world has never looked more promising.
When it comes to staying at the forefront of these software development trends, having a team of knowledgeable and experienced developers is paramount. This is where industry leaders like Konverge Digital Solutions genuinely shine. With over 30 years of experience in the field, Konverge boasts a team of experts who understand the intricacies of these emerging trends. Our commitment to excellence and innovation has consistently set us apart in the industry. So, as we embrace this era of technological advancement, having Konverge Digital Solutions by your side ensures that you're working with the best in the business. Contact us for a free consultation today.